What is a Sales Funnel?
Basically, a sales funnel is like having the best salesperson around...that you don't have to pay. Sound intriguing? It should, because if set up correctly, it can pay off like you never thought possible. The best part is, you can acheive this on your own or at the very least school your marketing staff on this monumental DIY marketing secret formula that will no doubt explode your list of subscribers.
What are the Key Components?
Hook - Landing Page to Capture Leads.
Story - Strategic Thank You Page.
Offer - Re-targeting plan with Auto-responder.
The Visual
---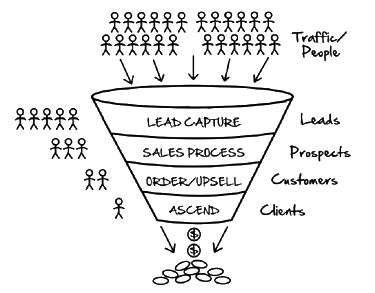 Courtesy of DotCom Secrets
---